Pixalate, Inc., the global leader in fraud protection and data intelligence, today released the August 2017 rankings in the Global Seller Trust (GSTI), Mobile Seller Trust (MSTI), and Video Seller Trust (VSTI) Indexes.
Below are some of the key takeaways regarding movers and shakers at the top of the rankings.
GSTI highlights: RhythmOne remained the top overall seller of U.S. inventory in August, while Sovrn stayed put at No. 2. ONE by AOL continued to rise, climbing to the No. 3 spot. Google AdExchange made strides in the U.S. in August as well, rising four spots to No. 8.
MSTI highlights:

AdColony was again the No. 1 in August. ONE by AOL rose two spots to secure the No. 2 ranking

. Brightcom climbed three spots to earn the No. 7 ranking, and Cignal.io made a big jump (up five spots) to claim the No. 10 position.
VSTI highlights: In the U.S., Tremor Video rose one position secured the top spot, swapping places with SpotX. Teads climbed three spots to earn a top-five ranking, while BrightRoll rose four spots to earn the No. 7 position.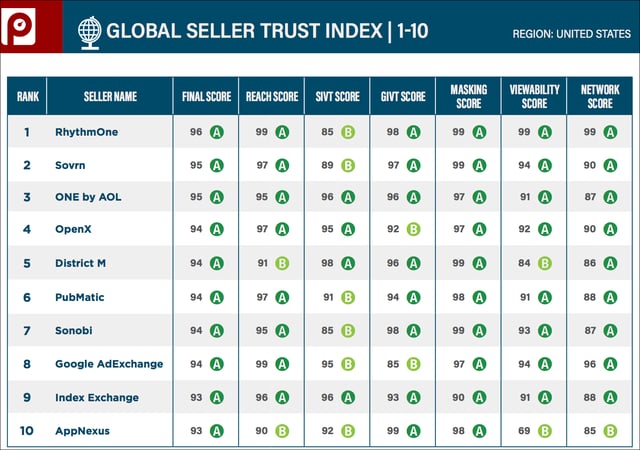 About Pixalate's Seller Trust Indexes
Pixalate's monthly Global Seller Trust Index (GSTI), Mobile Seller Trust Index (MSTI), and Video Seller Trust Index (VSTI) are the worldwide standards in programmatic advertising quality ratings. Released monthly, the indexes evaluate and rank the quality and integrity of advertising networks and sellers across channels, platforms, and devices.
Global quality ratings are based on an analysis of overall effectiveness assessing multiple factors, such as viewability, fraud, engagement, domain masking, network quality and more, in compliance with recognized industry standards.
To learn more about the methodology and to download the expanded list of top sellers, visit http://www.pixalate.com/sellertrustindex.
About Pixalate
Pixalate, Inc. is a leading global intelligence platform and real-time fraud protection provider. Pixalate is a Media Rating Council-accredited vendor for display ad viewability and Sophisticated Invalid Traffic (SIVT) detection and filtration for desktop and mobile web traffic. For more information, please visit www.pixalate.com.