This week's review of ad fraud and quality in the digital advertising space.
1. Pixalate releases November 2017 Seller Trust Indexes, now with ads.txt scores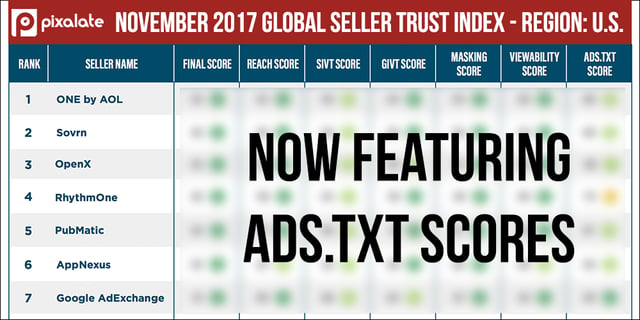 Pixalate this week released the November 2017 Seller Trust Indexes. The indexes rank the overall quality of programmatic sellers across mobile and desktop web, mobile in-app, and video. "This month, Pixalate introduces ads.txt scoring to our GSTI to effectively measure the quality of a seller's network of domains that they represent. The industry-wide ads.txt effort was born in the IAB's Tech Lab and has created overnight transparency for buyers into the programmatic advertising ecosystem of sellers and domains," wrote Pixalate in a blog announcing the release of the new indexes.
2. Pixalate releases 2017 Ads.txt Trends Report
Pixalate has released its 2017 Ads.txt Trends Report, featuring data on the year-end state of ads.txt adoption. Highlights from the report include adoption rates among the top 1000 and 5000 publishers which programmatic advertising, insight into which ad exchanges are listed most often on ads.txt files, and more.
3. More marketers take programmatic in-house amid transparency concerns
AdExchanger has reported, citing a study from the Association of National Advertisers (ANA), that "[m]ore marketers are moving programmatic strategy in-house, pushing agencies into an executional role." The article adds: "Marketers are adopting in-house programmatic functions more quickly mainly due to continued concerns about transparency and brand safety."
4. Will 2018 bring a shift in the fight against ad fraud?
Marketing Dive wrote an article exploring whether or not 2018 will be the year in which marketers "turn the tide" against ad fraud. "You don't have to be a rocket scientist to know that if I can save you $1 million by investing $25,000 [fighting fraud], it's a win-win for everybody. I think that's where the marketplace is galvanizing around," Bob Liodice, chief executive at the Association of National Advertisers (ANA), said to Marketing Dive.
5. The state of brand safety
Digiday offers up five charts to update marketers on the state of brand safety as 2017 comes to a close. "A survey of 30 brand marketers by Digiday+ showed that brands place more responsibility on themselves than on agencies, vendors or publishers, when it comes to maintaining brand safety," wrote Digiday.
Sign up for our blog to stay updated with new stats, trends, and analysis on digital ad fraud.