This week's review of ad fraud and quality in the digital advertising space.
1. Pixalate report: 330% rise in global programmatic OTT/CTV ad transactions in 2019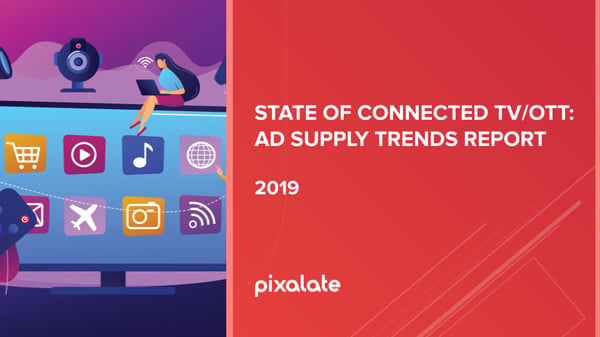 Pixalate this week released its State of Connected TV/OTT: 2019 Ad Supply Trends Report, featuring granular analysis on the latest trends in Over-the-Top (OTT) and Connected TV (CTV) advertising.
Key Findings: 330% global growth in programmatic OTT/CTV ad transactions in 2019
OTT/CTV explosive growth: 330% rise in programmatic OTT/CTV ad transactions in 2019
App ecosystem: 232% rise in OTT/CTV apps that support programmatic advertising over the last 18 months
2. One-third (32%) of programmatic mobile in-app ads are possibly brand-unsafe
Pixalate's 2019 Mobile Advertising Supply Chain Safety Report dives into brand safety for mobile in-app programmatic advertising on the Google Play Store.
The results reveal that a significant amount of programmatic mobile in-app ad transactions are possibly-brand unsafe. Read our blog for more.
3. eMarketer releases 2020 Digital Ad Fraud report
"Digital ad fraud is still a major problem for programmatic advertisers and their partners throughout the supply chain," wrote eMarketer in the intro to its Digital Ad Fraud 2020 report. "Education and awareness have improved, along with detection. Efforts to continue to expose more of the programmatic supply chain are making a difference, but there are still risky pockets of supply and other vulnerabilities."
4. Ad fraud chat with former Uber exec
In this AListDaily podcast, Uber's former head of performance marketing and CRM, Kevin Frisch, "discusses the largest ever fraud case, a case between Uber and its suppliers of performance marketing and advertising," the synopsis reads. "Frisch shares what happened, what was the trigger that launched the investigation, how they diagnosed what was going on, and several measurement challenges along the way."
5. Chrome extensions exploited in alleged 'ad fraud network'
"Researchers have uncovered and dismantled a long-running malvertising and ad-fraud network that relied on an extensive set of nearly identical Chrome extensions to gather users' private browsing data and direct them to potentially malicious sites," reported Duo Security.