This week's review of ad fraud and quality in the digital advertising space.
1. Pixalate uncovers 'DiCaprio': An OTT/CTV ad fraud scheme
Grindr, a dating app popular in the LGBTQ community and owned by Chinese gaming company Kunlun Tech, was utilized in an apparent cross-device ad fraud scheme that tricked advertisers into thinking they were buying video advertisements on Roku connected TV devices, according to new research from Pixalate.
The apparent scheme, which Pixalate has named "DiCaprio," reveals how scammers can abuse security loopholes that exist in mobile app advertising to carry out ad fraud attacks spanning multiple devices, including the lucrative OTT/CTV ad ecosystem.
2. BuzzFeed News: 'Ad Fraudsters Exploited Grindr In A Scheme Targeting Roku Apps'
BuzzFeed News has more coverage on DiCaprio, the cross-device ad fraud scheme uncovered by Pixalate.
"[Grindr's] Android app was exploited by ad fraudsters in a scheme that stole money from advertisers — and drained the phone batteries and depleted the data plans of Grindr's users," wrote BuzzFeed News.
"DiCaprio is one of the most sophisticated OTT ad fraud schemes we have seen to date," Jalal Nasir, CEO of Pixalate, said to BuzzFeed News.
3. 'DiCaprio' discovery: Podcasts, additional coverage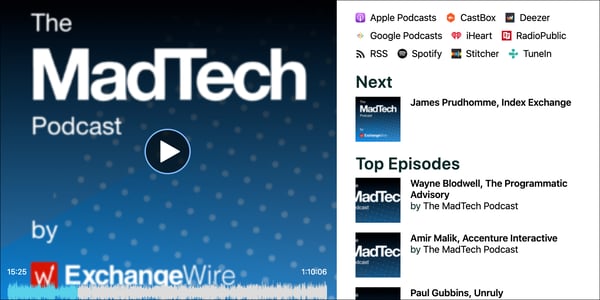 MediaPost's coverage of Pixalate's 'DiCaprio' ad fraud discovery zeroes in on how scammers could turn $1 CPM mobile display ad units into lucrative $25 CPM OTT video ad units by spoofing some premium Roku publishers. "The numerous premium publishers spoofed by the scheme have included CBS News, Fox, PBS, USA Today and TMZ," reported MediaPost.
ExchangeWire's Ciaran O'Kane and Lindsay Rowntree were joined by Vincent Flood of Video Ad News on ExchangeWire's MadTech podcast covering numerous topics, including the DiCaprio discovery, OTT/CTV ad fraud in general, and more. The discussion on DiCaprio and OTT ad fraud begins at the 15:25 mark.
4. Android malware for mobile ad fraud 'spiked sharply' in 2019
"Criminal groups are increasingly targeting users of Android mobile devices with malware for conducting ad fraud on a massive scale," reported Dark Reading, noting that "Android malware for mobile ad fraud spiked sharply in 2019."
5. More on Google Chrome's cookie-killing decision
Digiday reports on possible collateral damage from Google's decision to phase out the use of third-party cookies on its Chrome browser by 2022. In addition to ad targeting, Digiday says frequency capping, campaign attribution, audience analytics and more are among the areas to keep an eye on as the cookie crumbles.