This week's review of ad fraud and quality in the digital advertising space.
1. SSAI webinar recap: More transparency is needed to combat ad fraud risks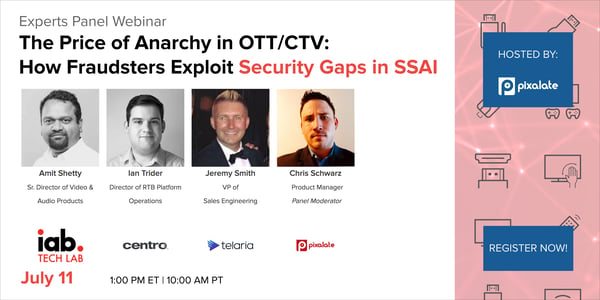 Pixalate recently hosted a webinar titled: "The Price of Anarchy in OTT/CTV: How Fraudsters Exploit Security Gaps in SSAI." This webinar reviewed the use of Server-Side Ad Insertion (SSAI) in OTT/CTV, including latest industry standards, measurement challenges, ad fraud risks. Read the blog recap or watch the full webinar below:
2. Demystifying OTT/CTV ad fraud: Top 5 SSAI myths debunked
The biggest vulnerability in the OTT/CTV industry is the widespread use of Server-Side Ad Insertion (SSAI). According to Pixalate data from Q2 2019, over one-third (38%) of all programmatic OTT/CTV ad transactions are delivered via SSAI.
This post demystifies OTT/CTV ad fraud by debunking common myths about SSAI, which is also referred to as ad stitching.
3. Top 10 trending mobile apps for APAC advertisers in Q1 2019

This post brings you the top 30 trending apps in APAC based on programmatic ad volume. Key takeaway: APAC Android users are big on the photo and video apps, while Games and Social Networking apps combine to account for 40% of the top trending iOS display apps.
4. North America advertisers could lose $100 million per day to ad fraud by 2023
New research from Juniper Research notes that "advertising fraud will waste $100m of daily ad spend in North America alone by 2023," reported The Drum. These numbers are "well beyond current daily fraud wastage ($44m a day)."
5. New ad fraud scheme hits 25 million Android devices
"A malicious software campaign tied to a Chinese internet company has exploited known vulnerabilities in Android mobile phones to infect roughly 25 million devices as part of a far-reaching ad fraud scheme," reported CyberScoop.