This week's review of ad fraud and quality in the digital advertising space.
1. Webinar: Learn how fraudsters are stealing OTT/CTV ad budgets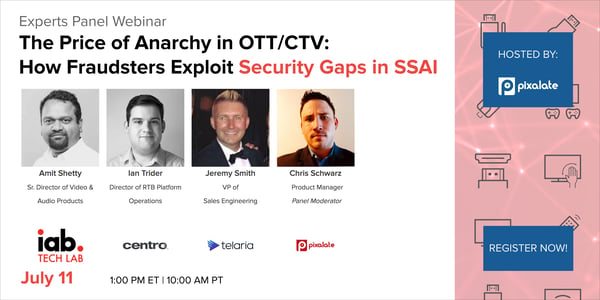 There is still time to register for our expert webinar on the use of Server-Side Ad Insertion (SSAI) in OTT/CTV advertising. The webinar will take place on July 11, 2019 at 1pm ET.
On Thursday, July 11, 2019 at 1:00pm ET, Pixalate Product Manager Chris Schwarz will host:
Amit Shetty, Sr. Director of Video & Audio Products, IAB Tech Lab
Ian Trider, Director of RTB Platform Operations, Centro
Jeremy Smith, VP of Sales Engineering, Telaria
2. Top 10 trending mobile apps for EMEA advertisers in Q1 2019
Where are EMEA mobile advertisers most active? Pixalate monitors billions of mobile in-app programmatic advertising transactions to identify which apps are trending at any given moment, and this post brings you the top 30 trending apps in EMEA based on programmatic ad volume.
Key takeaway: Games dominate on Android for both display and video, while on iOS they rank far higher for video than display.
3. Does RTB violate the GDPR?

In this eMarketer podcast, "principal analysts Lauren Fisher and Nicole Perrin consider whether real-time bidding in advertising markets is compatible with the terms of the EU's General Data Protection Regulation."
4. Op-ed: Marketers need to 'smarten up' to tackle ad fraud
"Fraud attempts amount to 20 to 35% of all ad impressions throughout the year," wrote Paul Stringer of ID Comms in an op-ed for MediaPost. "For every shiny new platform that was celebrated at Cannes, fraudsters are on the case with new sophisticated gambits. New and unregulated channels such as OTT TV offer ripe opportunities to commit cybercrime."
5. What is 'adware'? Here's a primer
CSO Online has published an article on adware, noting: "Adware is deceptive software that earns its creators money through fraudulent user clicks."
The article explains: "Adware programs can change the browser's home page and the default search engine, can inject rogue results into search pages and can also inject rogue advertisements into legitimate websites or trigger persistent pop-up windows in the browser. The goal of their creators is to earn commission money fraudulently by abusing pay-per-click or pay-per-view advertising schemes."