This week's review of ad fraud and quality in the digital advertising space.
1. Pixalate reveals weekly app trend reports by app store
Pixalate, an industry leader in ad fraud protection and mobile in-app advertising inventory quality, has released its App Trends Reports, which reveal the latest trending apps based on a variety of key signals important to advertisers.
2. Gaming, TV, education apps among most popular on iPads in Q4 2018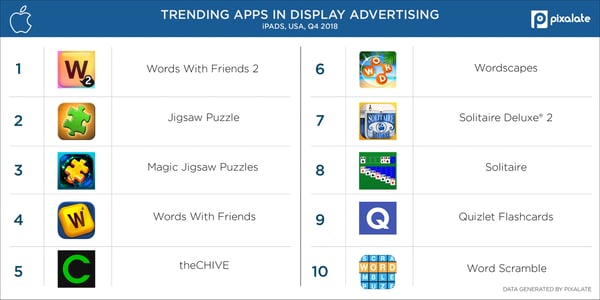 Pixalate highlights the top 10 trending iPhone apps in the United States, based on display and video programmatic advertising volume, in Q4 2018. Games accounted for eight of the top 10 spots for iPad display advertising, and all eight were either word games, puzzle games, or solitaire games.
See more of the trending iPad apps.
3. Does the ad industry need a 'reset button'?
"Transparency isn't as relevant to larger advertisers as it was a year ago," wrote Digiday. "The catch-all term for everything that's wrong with advertising has given way to concerns about brand safety and contextual targeting that have shifted the focus back to effectiveness, according to advertisers, agencies, ad tech vendors and media owners" at ISBA's annual conference, held this week.
"[Unilever] is exploring new solutions to the same old problems of brand safety, ad fraud and personalization as it comes to terms with how each one damages the image of brands and wastes ad budgets," reported Digiday.
4. Q&A with PubMatic on inventory quality
"ExchangeWire speaks with Eric Bozinny, director, inventory quality, PubMatic, about the company's efforts to improve quality within the programmatic landscape," wrote ExchangeWire introducing its Q&A with PubMatic's Bozinny. "Bozinny explains the different elements of inventory quality, and why it's more than just fraud."
5. Google switches to first-price auction
"Google will move to first-price auctions for Google Ad Manager, its publisher exchange and ad server, by the end of 2019," reported AdExchanger. "At that time, it will also run a single, unified auction and remove last look, ceding a key advantage Google held in a second-price world."
"First-price auctions will increase transparency, reduce operational complexity for sellers and make it easier for buyers and agencies to properly value inventory, Sam Cox, Google group product manager, wrote in a blog post," wrote AdExchanger.